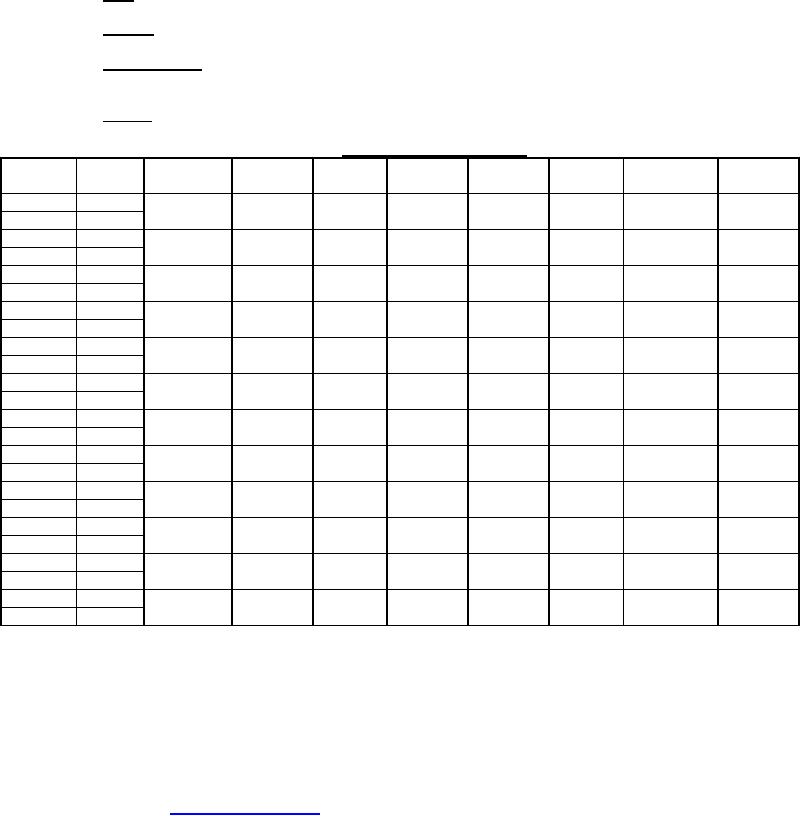 DS51402A
REQUIREMENTS:
1.
Type. Cold forged (type A, style 1 of procurement specification).
2.
Material. Steel, carbon, 345 MPa minimum tensile strength; Brass, commercial.
Protective finish. Steel nuts, cadmium plated per SAE-AMS-QQ-P-416, type II, class 3
3.
(5.1 μm thick).
4.
Threads. "M" profile, coarse pitch, tolerance class 6H in accordance with FED-STD- H28/21.
TABLE I. Dimensions and dash numbers
Dash
Material
A
B
C
D
E
F
G
H
Number
-01
Steel
M2X0.4
20 ± 0.65
10 ± 0.45
8 ± 0.45
5 ± 0.38
6 ± 0.38
1.6 ± 0.30
2 ± 0.30
-02
Brass
-03
Steel
M2.5X0.45
20 ± 0.65
10 ± 0.45
8 ± 0.45
5 ± 0.38
6 ± 0.38
1.6 ± 0.30
2 ± 0.30
-04
Brass
-05
Steel
M3X0.5
20 ± 0.65
10 ± 0.45
8 ± 0.45
5 ± 0.38
6 ± 0.38
1.6 ± 0.30
2 ± 0.30
-06
Brass
-07
Steel
M4X0.7
20 ± 0.65
10 ± 0.45
8 ± 0.45
5 ± 0.38
6 ± 0.38
1.6 ± 0.30
2 ± 0.30
-08
Brass
-09
Steel
M5X0.8
25 ± 0.65
12 ± 0.55
10 ± 0.45
6 ± 0.38
8 ± 0.45
2 ± 0.30
2.5 ± 0.30
-10
Brass
-11
Steel
M6X1
32 ± 0.80
16 ± 0.55
12 ± 0.55
8 ± 0.45
10 ± 0.45
2.5 ± 0.30
3 ± 0.30
-12
Brass
-13
Steel
M8X1.25
40 ± 0.80
20 ± 0.65
16 ± 0.55
10 ± 0.45
12 ± 0.55
3 ± 0.30
4 ± 0.38
-14
Brass
-15
Steel
M10X1.25
50 ± 0.80
25 ± 0.65
20 ± 0.65
12 ± 0.55
16 ± 0.55
4 ± 0.38
5 ± 0.38
-16
Brass
-17
Steel
M12X1.75
64 ± 0.95
32 ± 0.80
23 ± 0.65
14 ± 0.55
19 ± 0.65
5 ± 0.38
6 ± 0.38
-18
Brass
-19
Steel
M16X2
72 ± 0.95
36 ± 0.80
28 ± 0.65
16 ± 0.55
22 ± 0.65
6 ± 0.38
7 ± 0.45
-20
Brass
-21
Steel
M20X2.5
90 ± 1.1
45 ± 0.80
36 ± 0.80
20 ± 0.65
28 ± 0.65
7 ± 0.45
9 ± 0.45
-22
Brass
-23
Steel
M24X3
112 ± 1.1
56 ± 0.95
45 ± 0.80
24 ± 0.65
36 ± 0.80
9 ± 0.45
11 ± 0.55
-24
Brass
Custodians:
Preparing activity:
Army ­ AR
DLA ­ IS
Air Force ­ 99
(Project 5310-2725-000)
NOTE: The activities listed above were interested in this document as of the date of this document. Since
organizations and responsibilities can change, you should verify the currency of the information above using the
2