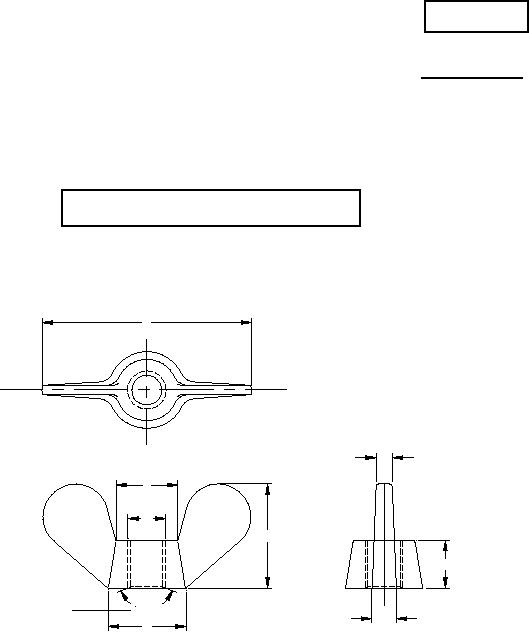 METRIC
DS51402A
31 October 2007
SUPERSEDING
DS51402
6 October 1999
MILITARY SPECIFICATION SHEET
NUT, PLAIN, WING, METRIC
Inactive for new design after 6 October 1999
This specification sheet is approved for use by all Departments and Agencies of the Department of Defense.
The requirements for acquiring the product described herein shall consist of this specification sheet and
FF-N-845.
B
G
F
A
C
E
120°
COUNTERSUNK DOWN
H
TO THREAD DIAMETER "A"
D
NOTES:
1. Dimensions. Unless otherwise specified, dimensions are in millimeters (mm).
2. Part number. The part number consists of the DS number plus the dash number.
Example: DS51402-01.
3. Referenced documents shall be of the issue in effect on date of invitations for bids or request for
proposal.
4. For design feature purposes, this standard takes precedence over procurement documents referenced
herein.
5. Changes from previous issue. Marginal notations are not used in this revision to identify changes with
respect to the previous issue due to the extent of the changes.
AMSC N/A
FSC 5310
1 of 2